Background Plates
We also have an assortment of 3 minute lock-down background plates shot in Rome and the surrounding area for use with ChromaKey and Green Screen Compositing. Perfect for commercials, music videos, trade shows, etc., these beautiful 3 minute plates will allow you to shoot your video in Rome!
These 1080i High Def Background Plates can also be converted to standard definition 16x9 and even cropped to 4x3.
In addition, we also have numerous 1080i HD Background Plates of sites in the Amalfi Coast, the isle of Capri, Pompeii, Herculaneum, the Vatican, London, New York City, Boston, Hollywood, Maine, Florida, and Hawaii. More…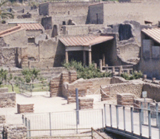 NEW Herculaneum HD Footage!
We have new NTSC 1080i High Definition Stock Footage of Herculaneum, near Naples, Italy, shot in July 2005. This beautiful HD footage can also be downconverted to SD - both 16x9 and 4x3 formats.
Herculaneum was buried in the same eruption of Vesuvius that buried Pompeii in 79 A.D. With a population of only 4,000, Herculaneum was even more well preserved than its more famouos neighbor.
LICENSING:
VITA Digital Productions was the creator of this high definition video footage and owns the copyright thereto. We license our footage on a per-use basis. Pricing is dependent upon use, term of license, and types of media covered. These factors determine the type of license granted and the cost of that license.
Typically, clients contact us via email and tell us exactly how they want to use our footage and we respond with a price quote. The client then tells us what type of shots are needed and we then send a Screener DVD with those type of shots along with a timecode burn. After viewing the Screener DVD and selecting footage, the client sends us timecode cues, and after payment, we send the clean footage to the client, either by harddrive, tape, or FTP. Of course, this procedure may change depending on the client's needs or circumstances.
We do offer a "Worldwide, all media, in perpetuity" license along with more limited licensing. Please contact us and tell us exactly how you plan to utilize the footage for a quote.
And we offer fast turnaround! Click here to email us